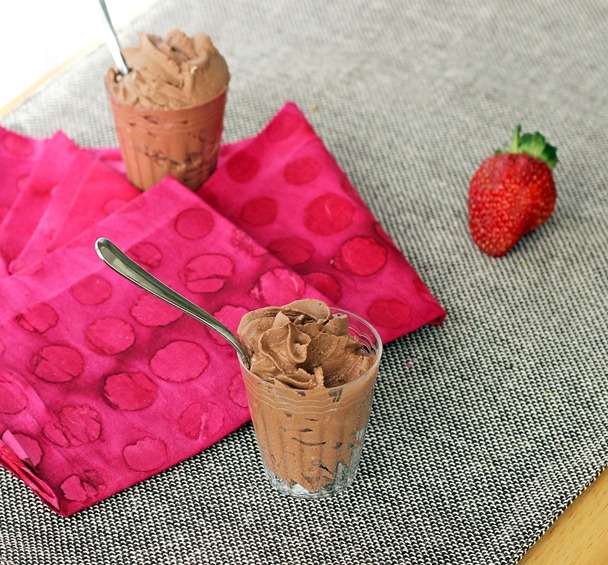 If you need an idea for a homemade Valentine's Day dessert that won't lead to a sugar crash or blow your diet, look no further! My coworker sent me this recipe from Chocolate-Covered Katie and I decided to feature it in this week's newsletter I sent out for my employee wellness initiative. If you don't know how to make chocolate mousse with coconut milk, you're in for an easy treat! Enjoy the creaminess from the coconut milk (healthy fat) and satisfy your chocolate craving with unsweetened cocoa powder. Three simple ingredients (maybe 4 if you use Stevia), one delicious dessert.
Ingredients

1 can full-fat coconut milk
1/4 cup plus 1 tbsp cocoa powder
1/2 tsp pure vanilla extract
Sweetener to taste (Use stevia or powdered sugar for thickest results.)
Directions
1. Open the coconut milk and leave it uncovered in the fridge overnight unless it's already thick like mousse. (Don't shake the can before opening.) You can also transfer the milk into a bowl instead of leaving it in the can and let it sit in the fridge overnight.
2. Once thick, transfer to a bowl and whip in your cocoa, vanilla, and sweetener (optional) with a fork, or even beaters if you really want to whip it, whip it good.
3. Store in refrigerator until ready to use. The mousse will continue to get thicker.
4. Eat by itself or dip fresh strawberries, bananas, berries, or whatever fruit you have!
Katie mentions that in her picture (see above) she didn't use beaters but she did pipe the mousse out using an icing tip. Easy enough? Thanks for the recipe, Katie!
What meal/dessert are you making for Valentine's day?